The Satyananda tradition of yoga, also known as the Bihar School of Yoga, is a complete system of yoga evolved by Swami Satyananda and Swami Niranjanananda from ancient yogic wisdom. It is a step by step approach to enhance inner awareness, harmony and balance in all aspects of life and being.
Paramahamsa Niranjanananda Saraswati
Swami Niranjanananda Saraswati was born in Madhya Pradesh, India in 1960 and is the successor of Paramahamsa Satyananda. At the age of 4 he joined the Bihar School of Yoga under the guidance of Swami Satyananda. In 1971, he traveled worldwide for the next 11 years. In 1983 he returned to India and was appointed the head of the Bihar School of Yoga. Since then he has guided the development of the activites at Ganga Darshan, Sivananda Math and the Yoga Research Foundation. In 1990 he was initiated as a paramahamsa sannyasin and in 1993 was appointed successor of Swami Satyananda. In 1994 he founded Bihar Yoga Bharati, an institute for advanced studies in the yogic sciences. He has authored over 20 international yoga texts and continues to provide spiritual guidance to aspirants around the world.
Paramahamsa Satyananda Saraswati
Swami Satyananda taught yoga globally for twenty years, allowing these ancient teachings to be made available to all. He authored over 80 best selling books and classical texts on yoga and spiritual life. In 1984, he founded Sivananda Math, a social and charitable institution that creates sustainable living in some of the most neglected communities in India. In 1988 he retired from public life to live in a small village in Jharkand. His spiritual guidance and teachings inspired thousands worldwide.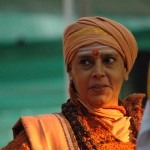 Swami Satyasangananda Saraswati
Swami Satyasangananda (Satsangi) was born in 1953 in West Bengal, India. From the age of 22 she experienced a series of inner awakenings which led her to her guru, Swami Satyananda Saraswati. From 1981, she traveled ceaselessly with Swami Satyananda in India and overseas and developed into a scholar with deep insight into the yogic and tantric traditions as well as modern sciences and philosophies. The establishment of Sivananda Math in Rikhia is her creation and mission. She guides all its activities, working tirelessly to uplift underprivileged areas. She embodies compassion with clear reason and is the foundation of her guru's vision.
Swami Sivananda Saraswati
Swami Sivananda Saraswati was born in Tamil Nadu in 1887. After serving as a medical doctor in Malaysia, he renounced his practice to live in Rishikesh, India. He traveled extensively throughout India, inspiring people to practice yoga and lead a divine life. In 1936 he founded the Divine Life Society, the Sivananda Ayurvedic Pharmacy in 1945, the Yoga Vedanta Forest Academy in 1948 and the Sivananda Eye Hospital in 1957. During his lifetime, he authored over 200 books and guided thousands in their pursuit of spiritual life.