"Gyanbindu worked out a long-term plan and it has played out beautifully. During my first private yoga session, I could not even stand on my own two feet without holding onto a chair. Today I can do one footed balancing poses for minutes at a time. I even managed to avoid a $20,000 surgery -they would have simply removed the two injured disks- by doing 1-to-1 sessions three times weekly. A recent MRI has shown that Gyanbindu's yoga practices have actually caused my ruptured discs to begin retracting back to where they belong. There is no way I would be at my current level of healing if not for Gyanbindu's patience, wisdom, individual attention, and guidance."
Michael VanElzakker
"For my frozen shoulder and constant pain in my arms , the yogic practices that Gyanbindu demonstrated and advised me to continue with has helped a lot in overcoming my problem. Arm pain is totally gone and shoulders are more than 90% recovered. I am extremely thankful."
Ranjan Sinha
Experience the therapeutic benefits of yoga as a personal, guided journey to health and wellness. In working one to one with all elements yoga instructor and owner Gyanbindu (Gail Seckrettar), you will learn yoga practices which best serve your health and well being. Each session is designed to suit individual needs based on a detailed health history profile, personal goals and spiritual aims. Yoga at a pace that suits you. Note: Minimum of a 4 session commitment is required.
Gyanbindu is a current and active member of the International Association of Yoga Therapists (IAYT).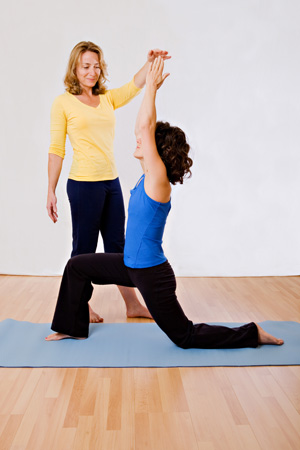 Special Needs Instruction
Some people have needs that are not met in group yoga classes. A complete yoga program is designed to best support your health requirements, personal goals and spiritual aims. Examples of client issues: stress reduction and management, insomnia, anxiety, depression, slipped disc and sciatica, hypertension, cancer, arthritis, allergies and asthma, knee pain, neck and back pain, digestive problems, sleep apnea, PTSD and spiritual development.
New to Yoga?
If you are new to yoga and feel uncomfortable participating in group classes, personal sessions will help you learn practices at a pace that suits you.
Develop a Home Practice
Private yoga instruction is ideal for anyone who wishes to develop a home practice. A private session consultation includes an evaluation of your health profile and goals, strategies to make your home practice consistent with your lifestyle and a written home practice plan to get you started.
Deepen your current yoga practice or just get started with yoga. Contact all elements yoga for your personal yoga coaching.